Engineering
Industry demands ever faster and more efficient applications from machine and equipment manufacturers which must simultaneously be low-cost, safe and sustainable. On the materials side there is great innovation potential: Engineering plastics often make good substitute materials for the production of many different components.
With the LiNNOTAM brand Licharz provides a wide range of semi-finished products and components tailored to your needs. From development to prototype: We offer you individual advice and tell you what parts of your machine can be made out of LiNNOTAM or other engineering plastics, examine the operating conditions of your machine on site and find the right material and process for you.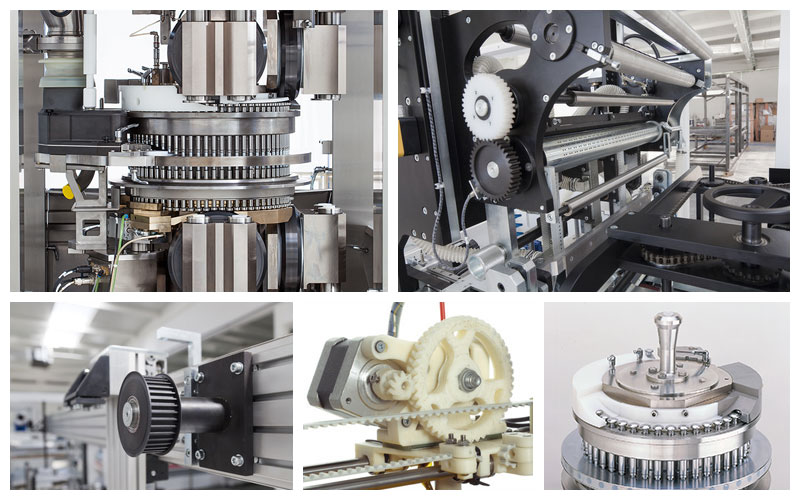 Components for machine engineering
Efficient, cost-effective and durable!
We deliver components such as gears, pulleys, grippers, guide elements, wheels, load-bearing rollers, guide rollers and deflection sheaves, pump impellers and casings, sprockets, feeder wheels, friction bearings and slider pads, cams, agitator blades, insulators, valves, valve blocks and bodies, precision parts, seals, parts for medical technology and medical equipment engineering.
Fields of application: Machine components, production and assembly technology, measuring and weighing technology, control technology, servicing technology, automation technology, general machine engineering.
Machine parts made of LiNNOTAM and other engineering plastics for machinery and equipment design make a strong case thanks to the following features:
low weight
high shock, pressure and impact resistance
high load capacity
excellent recovery when deformed
good sliding and emergency running properties
strong resistance to wear
good creep resistance
high corrosion resistance (chemicals, environment, oils & greases)
good vibration and noise damping
low running noise
Engineering plastics for a wide range of applications
Tailored exactly to your needs!
Licharz offers you an extensive portfolio of components made of engineering plastics. We can discuss your specific needs and develop an optimum solution together with you. Be it for hard-working parts in machinery exposed to heavy loads, be it for drive or conveyor systems, or special fields of application such as machines used in the food industry that are subject to particularly strict legal regulations: Mechanical parts made of modified thermoplastics are ideal for all the sophisticated components of your machinery and equipment.
Many Licharz materials are suitable for components used in general machine engineering:
With our expertise for your production
Any questions? We'll be happy to answer them!
Licharz not only offers you its rich expertise in the production of semi-finished products and components out of engineering plastics, it also provides a top-class range of products and services with a focus on the following:
We create new customer-oriented and application-specific materials and regularly test and further develop our existing products in our in-house laboratory.
We support our customers with the technical specification of plastic components and substitution of metallic materials by suitable engineering plastics. This includes the development of new materials as well as design and manufacturing.
Our engineering department will help you with the configuration and choice of materials for your specific application.
LiNNOTAM fits all requirements: With our products of the LiNNOTAM family we offer a high-performance range for hard-working parts such as:
Highly loaded wheels and guide rollers: LiNNOTAM

HiPERFORMANCE 1200

& LiNNOTAM

HiPERFORMANCE 612

Gears, sprockets, driven rollers: LiNNOTAM

DRiVE 1200

& LiNNOTAM

DRiVE 612

Friction bearings, slider pads, guides: LiNNOTAM

GLiDE

, LiNNOTAM

GLiDE Pro T
Contact us: Together with our technical experts we will find the right solution for your application!